Mentoring – Enriching Lives
Please select one of the remaining children listed below.
Mentoring is more than just sponsoring a child. It's about helping a child with their physical needs, but also building into them emotionally and spiritually. It's about connecting with their heart and praying for them.
Our hope is that you build a long-term relationship with your child. We require at least a minimum of a 1-year commitment to pray for your child regularly, respond to their letters, and write them a short note each month to help them develop their English skills.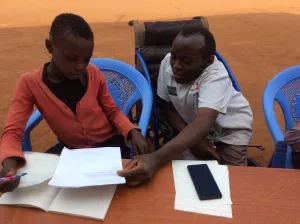 The children have various levels of English and live in our partner orphanages in Kenya and Haiti. Some of the children are orphaned, while others are extremely vulnerable due to a parent's death and/or extreme poverty and inability to pay for food and education.
Every 6 weeks you will receive a response from your child with a brief update about their orphanage and how you can be praying for them. We encourage your whole family to get involved through pictures and writing.
Your financial contribution of $35 per month goes toward an English tutor working with them to improve their English skills as well as providing critical resources for all of the children in care: school supplies, food, clothing, clean water, and other basic needs as identified by directors. We also send NHFC mission teams to do Vacation Bible School and take in necessary resources and supplies.
For less than the cost of one family fast food trip, your $35 per month will significantly impact a child's life. You will not regret taking this opportunity to help breathe life and hope into a vulnerable child. It is life-changing.
Thank you for helping a child know they matter and they are loved!
Please select one of the remaining children below.
Then,
Click the button below to open a new page and click on donate,
Select monthly or yearly payments,
On the next page enter the selected child's ID number (for example J1030),
Enter your payment information.
You will receive an introduction email within 24 hours with information about how to get started.
(if you prefer to pay by check email office@nhfc.org and provide the child ID for further details)